Whilst it is true that the viscosity of SAE90 is similar to SAE 40/50 etc. Gear oil and engine oil are not the same.
If one was to change the final drive oil every time one changed the engine oil then maybe engine oil would be better than nothing.
The final drive uses spur gears not hypoid like a rear wheel drive car's differential so doesn't really need EP rated oil. But I think it would hard to find a non-hypoid gear oil. Ie. Non EP (Extreme Pressure)
The owners manual I have does not even mention the final drive oil type or quality. I am lucky as Honda here has the correct oil in the correct sized one shot container.
Maybe the easiest answer is? Gear oil usually comes in a container with a small spout, engine oil comes with a wider mouth container.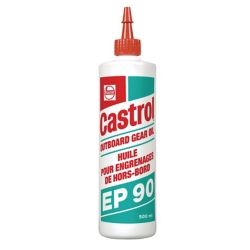 As it only has to be changed every two years, it only becomes a concern after that. Use any gear oil one wishes. As has been said the transmission has spur gears.
Depending where one lives and where the nearest supplier is buy the cheapest container not the cheapest oil. Don't forget outboard marine shops also have it in small containers or the outboard section in an auto parts store.
Edit found this. Here
http://www.motorbikespecs.net/index.dyn ... make=Honda
Front Fork Oil cc (right leg) : 106
Front Fork Oil cc (left leg) : 106
Fork oil grade : SAE 10
Valve Clearance Cold - Inlet : 0.14 - 0.18 mm
Valve Clearance Cold - Exhaust : 0.23 - 0.27 mm
Cooling System (litres) : 1.15
Tyre Pressure Front Bar / psi : 24
Tyre Pressure Back Bar / psi : 24
Tyre Pressure Front - Pillion Bar / psi : 32
Tyre Pressure Back - Pillion Bar / psi : 29
Final Drive grade : SAE 10W/30
Final Drive quantity : 190CC
Engine Oil Grade SAE : 10W/30
Engine Oil Classification API : SG
Engine Oil quantity with filter (litres) : 0.9
Spark Plugs Gap (mm) : 0.8 - 0.9 MM
I would still use gear specific oil though. Unless one wishes to change every time along with the engine oil. As I said lots of scooters here with whining transmissions.